An Evaluation of Turkish Baths Changing Function in Konya Meram Hasbey Bath
Keywords:
Bath, Turkish Bath, Renovation, Konya
Abstract
With the emergence of the presence of baths in the history of humanity is no longer a vital need for water has been understood by research. Thanks to this information, it was found out that people first used the bath structures that they built in Greek civilizations, they used them for healthy life and in the following periods they were meeting places, sports fields and indispensable parts of daily life. The aim of this study is to examine the baths, which is an important figure of the daily life in the past, in terms of space and material in the field study in the field study, since it can continue as a place by changing its function upon the loss of old importance due to the cultural and technological development and subsequent changes.
Although baths change their shape and function according to civilizations, they are thought, designed and built as an important part of socio-cultural life. In the first examples, the baths, which appeared in the function of health structures and on a small scale, have grown in scale as a result of advancing technology and changing environmental conditions, gained additional functions and turned into complex structures. Baths are similar in their emergence ideas. However, their functions and functions have undergone changes. In this way, it was able to add something new to the next culture and make it available today. The baths, which are clearly shaped within the framework of social life, also provide clear information about the needs and lifestyle of the period. In the light of this information, both cultural accumulation occurs and more extensive research can be done.
In this context, as a result of the researches, Meram Hasbey Bath, located in the city center of Konya and changed its function, was examined on the basis of both material and space and investigated by field analysis method. In the field analysis, it was found out that many parts of the Meram Hasbey Bath were not available. It is understood that only two parts of the structure serve the users and both the bath architecture is not perceived and the structure cannot be fully protected.
References
Biçer, A. (2018). Beyşehir Eşrefoğlu Külliyesi Restorasyon Sorunları, Yüksek Lisans Tezi, Selçuk Üniversitesi, Fen Bilimleri Enstitüsü.
Ergin, N. (2013). Anadolu Medeniyetlerinde Hamam Kültürü, İstanbul: Koç Üniversitesi Yayınları.
Esemenli, D. (2005). Roma'dan Osmanlı'ya Hamamlar. Hamamlar, 11, s. 110-118
Eyice, S. (1997). TDV İslam Ansiklopedisi Hamam Cilt XV, İstanbul: Türkiye Diyanet Vakfı Yayınları
Karpuz, H. (2009). Türk Kültür Varlıkları Envanteri: Konya 42, Ankara: Türk Tarih Kurumu Yayınları.
Mazlum, F. (2018). Türk Hamamında Yeniden İşlevlendirme, Yüksek Lisans Tezi, Selçuk Üniversitesi, Sosyal Bilimler Enstitüsü.
Ögel, B. (1991). Türk Kültürü Tarihine Giriş III. Cilt, Ankara: Kültür Bakanlığı Yayınları.
Ögel, B. (2016). Türklerde Devlet Anlayışı, İstanbul: Ötüken Yayınları.
Şehitoğlu, E. (2007). Bursa Hamamları, İstanbul: Tarih Vakfı Yurt Yayınları.
Vardi, H. (2010). Osmanlı Dönemi Balıkesir Hamamları, Yüksek Lisans Tezi, Yüzüncü Yıl Üniversitesi, Sosyal Bilimler Enstitüsü.
Yegül, F. K. (2008). Ephesos'da Vedius Gymnasium'u ve Anadolu Hamam Gymnasium'larının Kimlik Sorunu. Anadolu. 34, s. 103-114.
Yegül, F. K. (2009). Anadolu Su Kültürü:Türk Hamamları ve Yıkanma Geleneğinin Kökenleri ve Geleceği. Anadolu. 35, s. 99-118.
Yegül, F.K. (2006). Antik Çağ'da Hamamlar ve Yıkanma, İstanbul: Homer Kitabevi.
Yılmazkaya, O. (2002). Aydınlık Kubbenin Altındaki Sıcaklık: Türk Hamamı, İstanbul: Çitlembik Yayınları.
URL1: https://www.flickr.com/photos/lazyoldsun/140265364/
URL2: https://www.ancient.eu/image/1174/plan-of-the-baths-of-diocletian/
URL3: https://www.ancient.eu/image/1173/plan-of-the-baths-of-caracalla/
URL4: https://www.loebclassics.com/view/LCL251/1931/pb_LCL251.331.xml
URL5: http://www.vroma.org/~bmcmanus/stabianbaths_drawing.jpg
URL6: http://www.reidsitaly.com/places/rome/see/the-baths-of-caracalla/
URL7: https://miesarch.com/work/3844
URL8: https://birmilyonnokta.com/firmalar/esrefoglu-hamami
URL9:https:/i1.wp.com/www.benolmeden.com/wp-content/uploads/2015/09/turk-hamam-muzesi-10.jpg?w=640;
URL10:https://www.tripadvisor.com.tr/LocationPhotoDirectLink-g293974-d3626134-i53892026-Kilic_Ali_Pasa_Hamami-Istanbul.html
URL11: https://rodosto.hu/hu/magyar.html
URL12: https://twitter.com/seda_ozen/status/895183906491817986
URL13: http:/wowturkey.com/forum/viewtopic.php?p=3194710;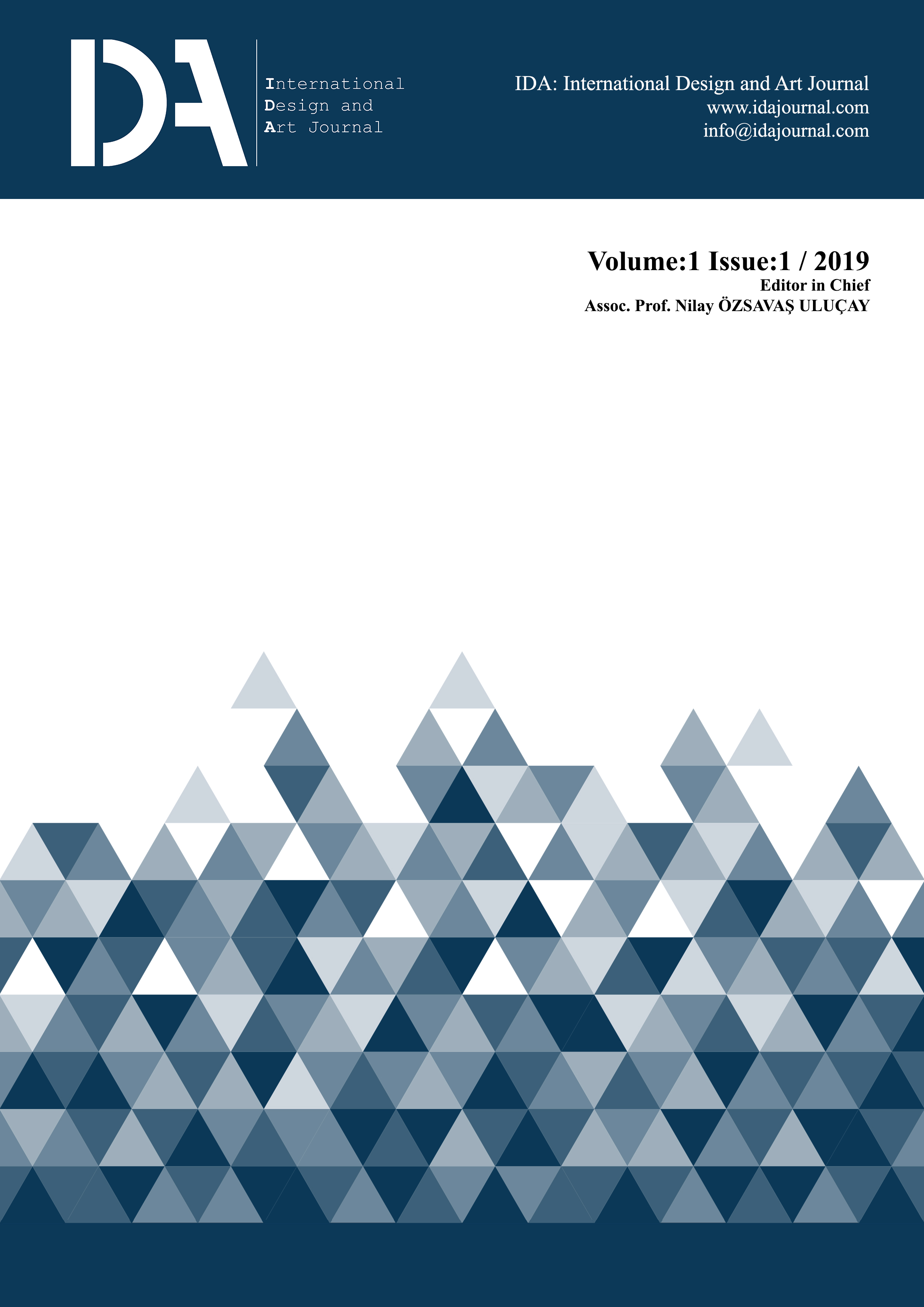 Downloads
License
IDA: International Design and Art Journal is an open-access academic journal. All publishing rights of the accepted articles are deemed to assign to IDA: International Design and Art Journal. Articles can not be published and copied anywhere, and can not be used without reference.
IDA: International Design and Art Journal is licensed under a Creative Commons Attribution-NonCommercial-ShareAlike 4.0 International License.